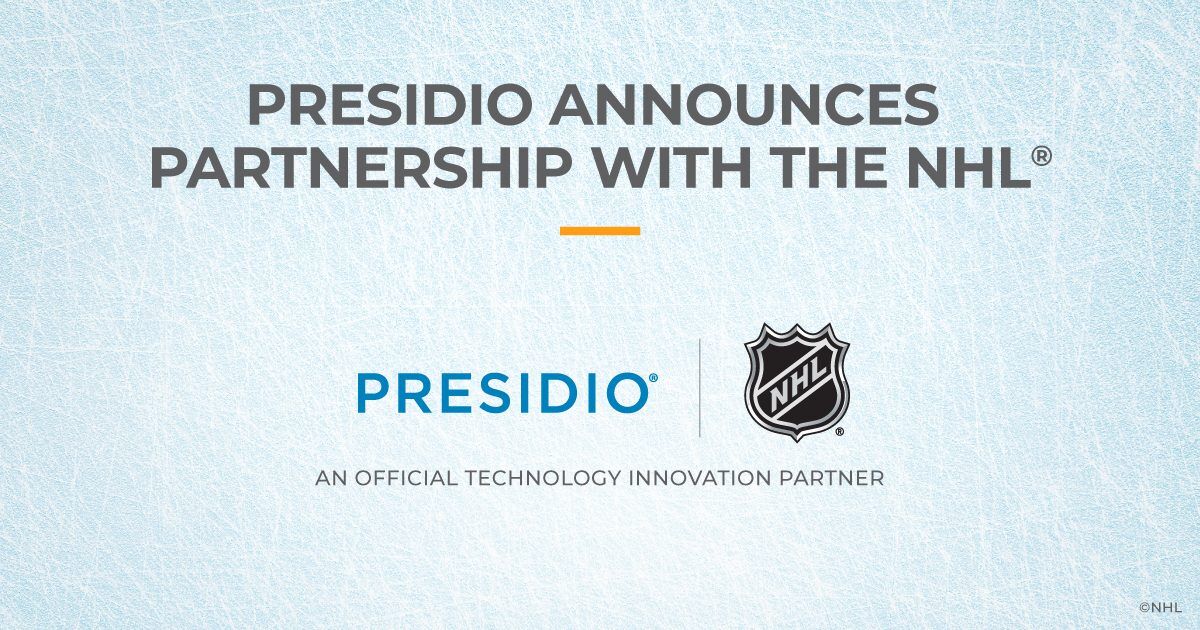 The NHL will leverage Presidio technology to enhance mission-critical platforms, including the introduction of a new NHL Draft Application  
NEW YORK (June 28, 2023) – Presidio, a leading global digital services and solution provider, and the National Hockey League (NHL®) today announced a multiyear North American partnership naming Presidio an Official Technology Innovation Partner of the NHL.
Presidio will help enhance the League's technological infrastructure, integrating data, designing, and creating applications to support the broadcast of more than 1,300 games annually, and leveraging managed services to support day-to-day operations. This also includes the new NHL Draft Application, which will be utilized at the 2023 NHL Draft™, taking place tonight and tomorrow (June 28 and 29) in Nashville.
"We've made significant investments to build a best-in-class technology infrastructure, and our commitment to innovation in all aspects of the game and business is expansive and ongoing," said Peter DelGiacco, NHL Senior Executive Vice President & Chief Technology Officer. "As a leading global digital services and solutions provider, Presidio will provide us with capabilities to further modernize our infrastructure, and create a foundation of applications for ongoing innovation, including the new NHL Draft Application which we look forward to using at the 2023 NHL Draft. We're thrilled to have Presidio join the NHL family and look forward to working together to expand and advance the game, our business and the fan experience."
"Presidio has a long-standing vendor relationship with the NHL to innovate, and we're excited to expand the relationship to become an Official Technology Innovation Partner," said Bob Cagnazzi, Chairman & Chief Executive Officer, Presidio. "A great example of our innovation and digital transformation for the League is the NHL Draft Application in use at the NHL Draft today that our team built to ensure everything from operations, trades, new Player announcements, and more goes smoothly."
The application is the first-of-its-kind for the League and transitions the NHL Draft onto a new platform, which utilizes a hybrid-cloud environment where all information is centralized, synced and integrated across various facets of the NHL, including Operations, Clubs, Communications, Central Scouting, and Central Registry. Intuitive and extensible, the application enhances the NHL Draft process, including securing, accessing, and transmitting vital data such as Player information, submitting Player picks, announcing Player selections, and much more. The application will also serve a further role to integrate NHL Draft information with NHL Central Registry and NHL Central Scouting beyond Draft day. The application enhances the NHL's ability to:
o  Quickly scale and respond to inputs from multiple sources in real-time.
o  Optimize workflow and efficiency for every NHL Draft Application user.
o  Improve NHL Draft security and confidentiality.
### (6/28/23)
NHL and the NHL Shield are registered trademarks and NHL Draft name and logo are trademarks of the National Hockey League. © NHL 2023.  All Rights Reserved.
About Presidio
Presidio is a global digital services and solutions provider accelerating business transformation through secured technology modernization. Highly skilled teams of engineers and solutions architects with deep expertise across cloud, security, networking, and modern data center infrastructure help customers acquire, deploy, and operate technology that delivers impactful business outcomes. Presidio is a trusted strategic advisor with a flexible full life cycle model of professional, managed, and support and staffing services to help execute, secure, operationalize and maintain technology solutions. For more information, visit www.presidio.com.
About the NHL
The National Hockey League (NHL®), founded in 1917, consists of 32 Member Clubs. Each team roster reflects the League's international makeup with players from more than 20 countries represented, all vying for the most cherished and historic trophy in professional sports – the Stanley Cup®. Every year, the NHL entertains more than 670 million fans in-arena and through its partners on national television and radio; more than 191 million followers – league, team and player accounts combined – across Facebook, Twitter, Instagram, Snapchat, TikTok, and YouTube; and more than 100 million fans online at NHL.com. The League broadcasts games in more than 160 countries and territories through its rightsholders including ESPN, WBD Sports and NHL Network in the U.S.; Sportsnet and TVA Sports in Canada; Viaplay in the Nordics, Baltics, and Poland; YLE in Finland; Nova in Czech Republic and Slovakia; Sky Sports and ProSieben in Germany; MySports in Switzerland; and CCTV5+ in China; and reaches fans worldwide with games available to stream in every country. Fans are engaged across the League's digital assets on mobile devices via the free NHL® App; across nine social media platforms; on SiriusXM NHL Network Radio™; and on NHL.com, available in eight languages and featuring unprecedented access to player and team statistics as well as every regular-season and playoff game box score dating back to the League's inception, powered by SAP. NHL Original Productions and NHL Studios produce compelling original programming featuring unprecedented access to players, coaches and League and team personnel for distribution across the NHL's social and digital platforms.
The NHL is committed to building healthy and vibrant communities using the sport of hockey to celebrate fans of every race, color, religion, national origin, gender identity, age, sexual orientation, and socio-economic status. The NHL's Hockey Is For Everyone™ initiative reinforces that the official policy of the sport is one of inclusion on the ice, in locker rooms, boardrooms and stands. The NHL is expanding access and opportunity for people of all backgrounds and abilities to play hockey, fostering more inclusive environments and growing the game through a greater diversity of participants. To date, the NHL has invested more than $100 million in youth hockey and grassroots programs, with a commitment to invest an additional $5 million for diversity and inclusion programs over the next year.