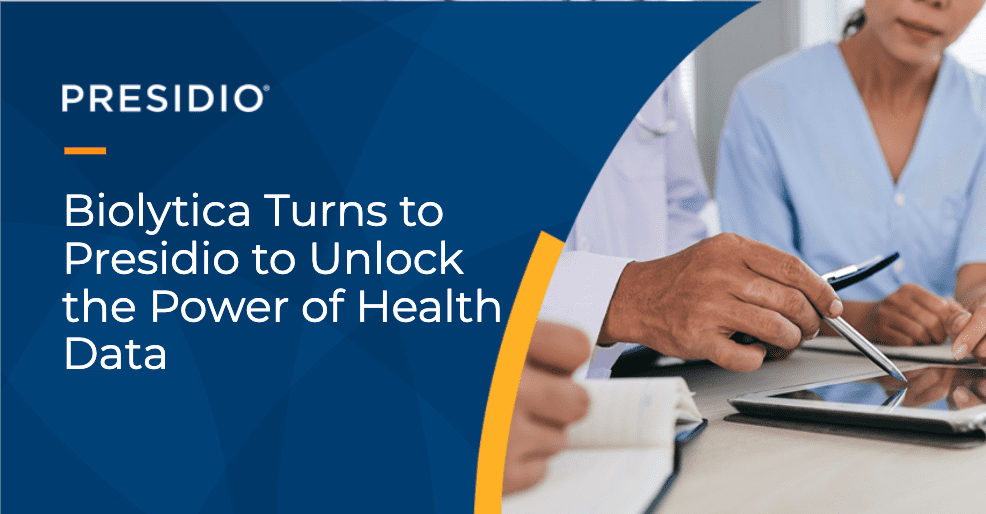 Develops New Data-Driven Health Analytics Platform to Increase Healthspan and Longevity
May 23, 2023, NEW YORK, NY – When Swiss-Based health data startup Biolytica set out to develop an innovative platform to support longevity and data-driven health optimization for healthcare professionals, they turned to Presidio, a leading global digital services and solution provider. Presidio cloud engineers and software developers worked with Biolytica to architect and deliver a leading-edge international healthcare solution that harnesses the power of data and advanced analytics to create and maintain personalized health optimization and longevity plans.
"The science of longevity is not just about living longer, it's about living healthier, longer," said Dan Fobes, Co-Founder and VP of Engineering at Biolytica. "While many books and articles on longevity provide general direction, what's needed is a personalized software solution that incorporates an individual's genetics, biomarkers, and lifestyle choices that produces measurable results. Bringing this information together enables effective planning for longevity, and is important in areas of prevention, chronic disease management, and telehealth.  Presidio has been a true partner in realizing our vision, helping us architect and implement a secure solution that has enabled clinicians worldwide to create effective health optimization plans personalized to each of their clients."
Biolytica and Presidio collaborated to create NEXUS, a platform that integrates many sources of data that have yet to be combined in a single platform.  NEXUS provides clinicians with an ability to visualize, correlate and analyze health-related data, which enables them to identify opportunities to increase healthspan, the part of a person's life during which they are generally in good health.
​Presidio's team utilized a cost-effective and scalable cloud operating model leveraging AWS cloud solutions and provided a team of AWS infrastructure, developer and data experts to manage all aspects of Biolytica's application and infrastructure.​ Presidio helped design, develop and deploy the infrastructure, services, integrations, SDLC processes, and controls required for GDPR and HIPAA compliance.
"Biolytica came to us with an amazing concept that with the right technology solution, can help people live longer healthier lives," said Rob Kim, chief technology officer at Presidio.  "We've worked closely with them on the entire technology stack from the architecture, to the design while also making sure it's fast, secure, compliant, accurate and affordable. This is a great example of the power of Presidio in understanding our customer's goals and making them come to life to make a real impact."
About Presidio
Presidio is a global digital services and solutions provider accelerating business transformation through secured technology modernization. Highly skilled teams of engineers and solutions architects with deep expertise across cloud, security, networking, and modern data center infrastructure help customers acquire, deploy, and operate technology that delivers impactful business outcomes. Presidio is a trusted strategic advisor with a flexible full life cycle model of professional, managed, and support and staffing services to help execute, secure, operationalize and maintain technology solutions. For more information, visit www.presidio.com.
About Biolytica
Biolytica, a Swiss-based longevity start-up, combines state-of-the-art health data analytics with personalized health optimization and longevity insights based on the latest scientific and medical breakthroughs. Our mission, to make increased human healthspan and performance accessible for everyone is enabled through Biolytica NEXUS, our health data platform that aggregates and analyzes an array of health data including Genomics, blood biomarkers, Epigenetics, wearables, nutrition, lifestyle data and more.  AIME, our concierge health optimization and longevity program, provides NEXUS with scientific oversight while ensuring a high-quality user experience.
Contacts:
Media:
Investor Relations:
[email protected]
Biolytica: