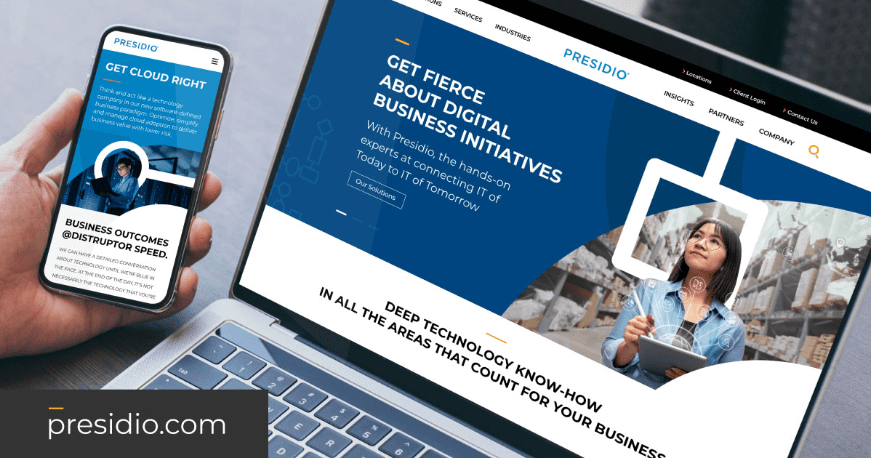 On behalf of the entire Presidio community, I'm delighted to announce the launch of our new website. We hope that the new presidio.com provides a clear message of who we are and what we stand for, in the context of our expanding role as a digital services and solutions provider with increasingly global scale.
As Presidio's head of marketing, it was eye-opening to gain a first-hand experience of what it's like to work in partnership with our own cloud development team – the same group of experts who help our customers define disruptive business or mission outcomes, and then help build, manage and run modernized technology environments. If I had to single out one aspect of the engagement to highlight, it would have to be agility. Our development team mapped out an aggressive 45-day project plan from start to finish, culminating in an April 1 go-live date. I know, I know, what a date to pick, right? But at every checkpoint along the way, we had transparency and a confident view of next steps. So picking April Fool's Day to go live never seemed – well, foolish.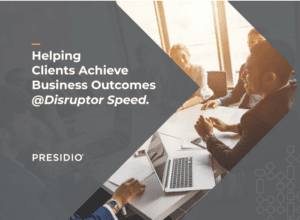 So what can you expect from the new presidio.com?
For customers who first engaged with us because of our deep expertise across a broad array of technology solutions, you'll find that our new partner pages have the latest information about our ever-expanding ecosystem of partners, our joint solutions, and the state of our advanced certifications.
But the crux of our new design was to show you an entirely new and different Presidio: a global digital services and solutions provider. A company that recognizes the importance of local expertise – but now with global scale. Inclusive of the innovations and investments we've made in all aspects of digital transformation. You'll see a range of new content in support of our Cloud capabilities like application development, cloud migration and devops; our Security capabilities including Digital Trust, secure operations, and risk and compliance solutions; our Workforce Transformation and Modernized Infrastructure solutions. And you'll see our full lifecycle of services capabilities from beginning to end.
For our customers: we hope that you find our new website to be more intuitive, easier to navigate, with improved responsiveness and more relevant content. We're proud of our new website but are already planning for the next round of new content and ongoing improvements. In the meantime, we want to hear from you. Let us know what you'd like to see more of in the future by responding to this blog post, or by completing any of the contact forms on presidio.com.