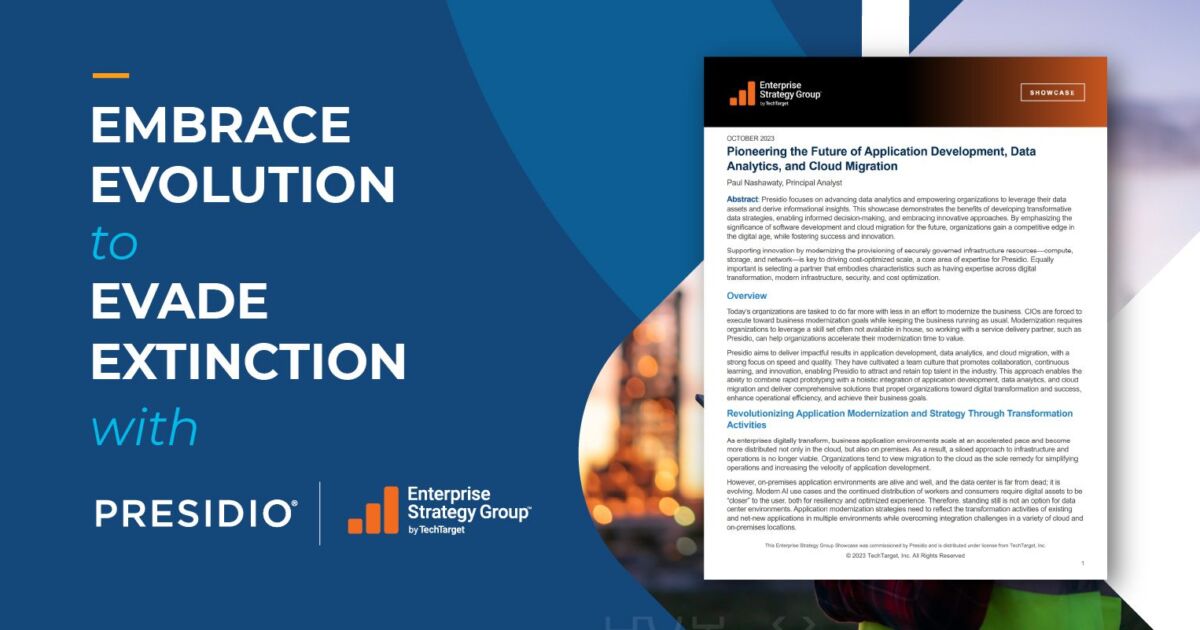 The Enterprise Strategy Group recently published a showcase paper that recognizes how Presidio stands out with its strength in delivering impactful results in application development, data analytics, and cloud migration, with a strong focus on speed and quality. Read the full showcase here. 
In today's fast-paced business landscape, organizations are constantly challenged to do more with less. The need to modernize processes and systems while keeping a business running smoothly is a common dilemma for many CIOs. This is where partners like Presidio come into play, helping organizations accelerate their modernization efforts and achieve their business goals.
Presidio's Mission: Empowering Organizations through Data
Presidio is on a mission to advance data analytics and empower organizations to harness the full potential of their data assets. In an era where data is king, the ability to extract meaningful insights from it can make or break a company's success. We focus on developing transformative data strategies that enable informed decision-making and innovative approaches.
The Significance of Software Development and Cloud Migration
One of the key pillars of Presidio's approach is the recognition of the importance of software development and cloud migration. In the digital age, these elements are essential for staying competitive. By embracing these technologies, organizations gain a competitive edge while fostering success and innovation.
A Partner in Digital Transformation
Presidio doesn't just provide services; it partners with organizations to drive digital transformation. We understand that modernization often requires skills that may not be readily available in-house. Our expertise in application development, data analytics, and cloud migration helps organizations accelerate their journey toward modernization.
Presidio's Winning Culture
A significant part of Presidio's success lies in its organizational culture. We have cultivated a team culture that values collaboration, continuous learning, and innovation. This culture not only attracts but also retains top talent in the industry. It enables Presidio to combine rapid prototyping with a holistic integration of application development, data analytics, and cloud migration, delivering comprehensive solutions that propel organizations toward digital transformation and success
The Evolution of Application Modernization
As organizations digitally transform, their business application environments scale rapidly and become increasingly distributed across both cloud and on-premises platforms. Traditional siloed approaches to infrastructure and operations are no longer viable. Presidio understands that on-premises application environments are still very much alive, and the data center is evolving, not disappearing.
Generative AI: A Game-Changer in Application Development
One of the exciting areas where Presidio is pioneering the future is through generative AI. This technology is revolutionizing application development by offering solutions like faster code creation, code improvement, and automatic documentation generation. Developers can leverage AI-powered tools to accelerate the development process, reduce repetitive tasks, and ensure cleaner, more robust code. This not only improves code comprehension but also facilitates smoother collaboration within development teams.
In conclusion, Presidio is at the forefront of driving data analytics, application modernization, and innovation. By partnering with organizations and embracing the power of generative AI, we are helping businesses navigate the digital age with confidence. In a world where data is the currency of success, Presidio is a trusted ally in the journey toward data-driven excellence.
Are you ready to unlock the future of your organization with Presidio? Download the full showcase from Enterprise Strategy Group, or contact us.