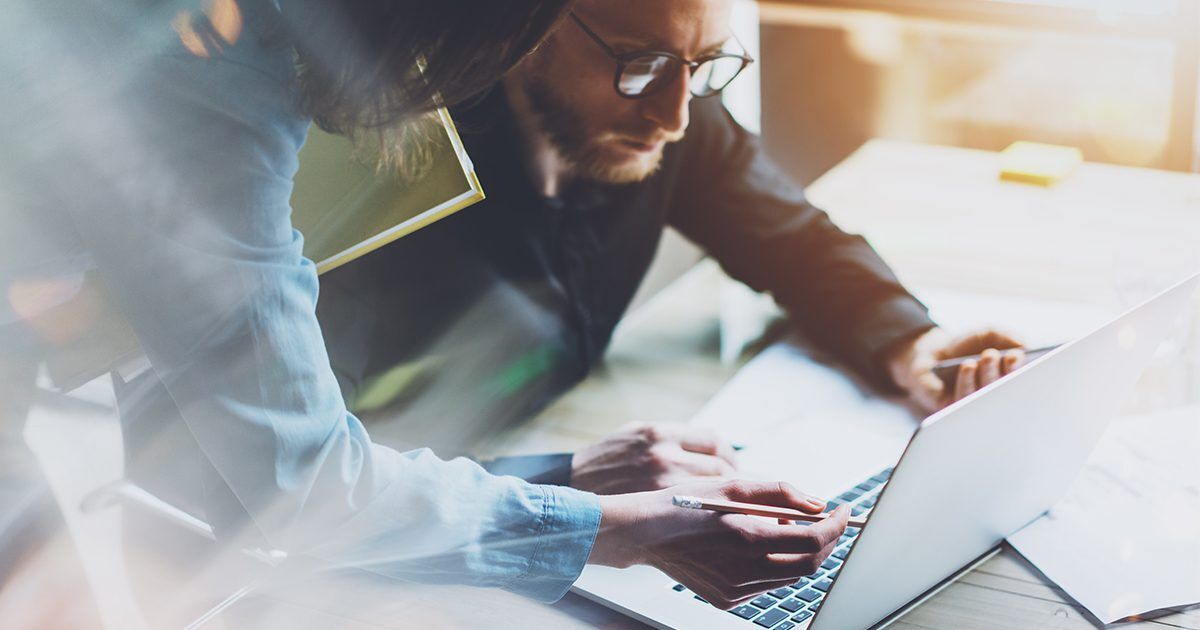 NOTE: This is part 1 of a 4-part blogpost.
It's been quite a year! Organizations need their IT leaders to step it up faster than ever despite restrictions from quarantine mandates and economic uncertainty. Security is center stage and digital transformation became a necessity. The biggest obstacle? Talent – how to find, recruit, invest, and retain the most valuable asset in modernizing IT.
This blog post will focus on the modernization efforts organizations across all sectors and how they are approaching business transformation. Additionally, how the COVID-19 pandemic has affected the funding, prioritization and execution of the initiatives, and where we @Presidio are investing to fill in the gaps for our clients and ensure successful outcomes as we head into a post COVID world.
Over the past 10+ years, we preached how technology is shifting from an operational necessity and a cost of doing business to a strategic asset.  It is the key differentiator on how organizations – regardless of industry or vertical – will move to the forefront, utilizing technology to get there – ahead of their competitors.
For many of us in the IT field, the operational successes that we achieved through designing and deploying bulletproof infrastructure solutions for the long-term (often-times without real thought to the business workloads that utilize those resources), buoyed the upward trajectory of our IT careers. However, these ARE NO LONGER the priority factors that will propel technology professionals to thought-leader status, as the game has changed.
What got us here, won't get us there.
We surveyed a sampling of our extensive client base (over 7000) and two themes emerged loud and clear as the top priorities for IT:
Be the change instigator.
Proactively act as a business co-creator
In essence, IT must be a partner in implementing the business strategy by influencing how organizations can use technology to innovate and redefine how the business executes its objectives successfully and how the differentiated use of technology will help GROW THE (topline) BUSINESS. These imperatives are so important that in survey results, we have seen that change in priority dramatically shift:

This change doesn't discount the importance of trusted operations but recognizes that the ability to maintain IT service levels are inherent and table stakes.
When comparing this to what we have seen from the industry analyst reporting, the results are remarkably similar: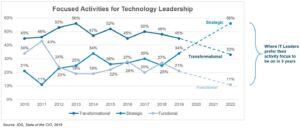 This change in priority has also forced IT practitioners to flip the script on much of what we held as key approaches to deploying enterprise IT solutions, notably, from all three organizational areas – people, process, and technology. The major themes are illustrated below (NEW vs OLD):
Good enough vs. High Fidelity– deliver capability as fast as you can, even if it's not the richest or highest-quality
Iteration vs. Release– instead of an aggregated release, deliver individual functionality that is minimally disruptive to the end-user and requires a minimal learning curve
Just-in-time resourcing vs. "Build it and they will come" – purpose-built infrastructure resourcing that needs less upfront "requirements gathering" and more focus on what's needed now – not 3 years from now
Built to Change vs. Built to Last– expect that anything you design will change quickly so focus on extensibility/flexibility in design instead of scale or permanence
IT General Contractor vs. IT Specialist– focus on "building the house" and not just "putting in the plumbing" as commoditization of IT has spawned an overabundance of choice – help find the signal through the noise
NOTE: We will explore each one of these themes in this blog series, so we will just start with a quick primer for each in this post.

As compared to the traditional IT approaches, the motivator of these changes is striking and clear – it's all about speed and convenience that is delivered intuitively, allowing flexibility to quickly adapt to new needs – as these needs are constantly emerging.
That brings us to the end of part 1. Please stay tuned for tomorrow's post as we continue our discussion around key IT themes for 2022, and more specifically, the impact of IT Talent on modernization efforts.
If you would like to learn or discuss any of the topics covered in this post in more detail, please reach out. I can also be found on LinkedIn or Twitter.