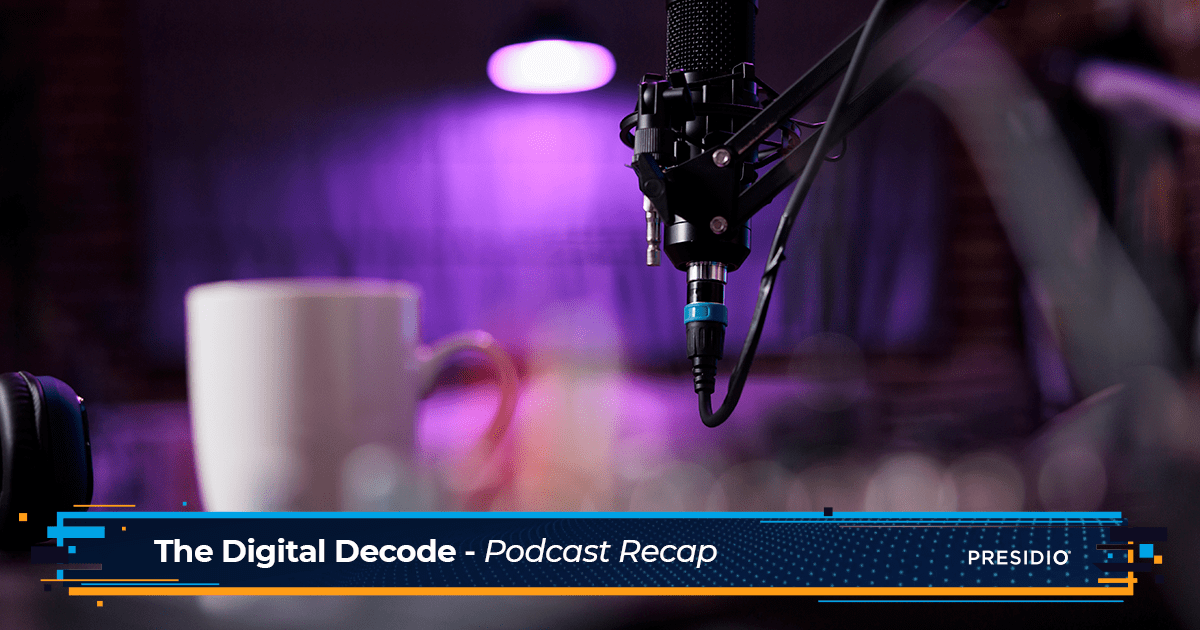 With the Times Square Ball Drop now in the rearview mirror of 2023, it's the perfect time to start discussing what to expect in the coming year. What are technology trends looking like currently and where will they go? 
Given the current macroeconomic challenges of inflation and geopolitical events, expectations are that most companies would back down on their tech investments. But the data is contradictory — more than 80% of companies agree that digital investments are still the key to success. And a major focus of these tech developments includes cloud adoption.
On the latest episode of The Digital Decode, we spoke with Sam Fatigato, VP of Cloud Solutions Group at Presidio. He shares his insight into what 2023 will look like for cloud tech.
Join us as Rob and Sam discuss:
The continued growth of cloud adoption and subsequent challenges

How virtual experience technologies are converging 

Empowering employees with modern technology
Challenges amid the continued growth of cloud adoption
The tech world is often subjected to a lot of hype, and this hype can cultivate a lot of unrealistic expectations. 
Customers have been drawn to cloud for its speed, responsiveness and innovative ways to deliver services to end users. But these same customers have let the excitement of valuable features disguise two challenges users run into — cost and visibility.
As the economy faces both a recession and inflation, cloud users have to be more conscious of their financials and put cost optimization strategies in place to ensure they are utilizing cloud in a way that is optimized for their specific business needs. 
"The full promise of cloud will continue to expand, but we've got to get our arms around the aspects of runaway costs, and see that not only are we improving the way we do things, but lowering the cost it takes to support the new, innovative ways to deliver services for the end user." — Sam Fatigato
Of these innovations, Sam says the purposeful multi-cloud is something we will see a lot more of this year. Whereas companies once might have adopted their choice of cloud as a one-size-fits-all solution, businesses are now dictating their choices by workload and specific solutions. 
For example, a business may go with GCP if they have a search and data analytics initiative. But if they're looking to leverage existing assets, they may employ Microsoft Azure. Customization and alternative options only continue to grow as businesses must optimize for their specific use cases. 
Because of this, in the coming year, there will be growth in each type of cloud as more customers adopt the multi-cloud strategy for different purposes. 
How virtual experience technologies are converging
The past few years have dramatically affected how people and businesses function daily. From increased online shopping to remote work and everything in between, the virtual experience has skyrocketed in importance. 
The shift to digital has affected workers and customers alike. As an all-encompassing experience, businesses must employ various working pieces to ensure everyone benefits from the virtual experience.
"Virtual experience technologies are converging. When you look at customer experience, digital employee experience, user and multi-experience — they're all converging into what's becoming known as total experience." — Rob Kim
This 'total experience' centers around personalizing accessibility. Digital experiences allow organizations to integrate usage and feedback data to help better serve their customers while creating more readily available services. 
This idea of 'total experience' will carry on into 2023. And if implemented with the cloud, experiences will become more personalized and accessible than ever before.
Empowering employees with modern technology
Each time there is a massive jump in tech development, employees clamor with fear that automation will take over their responsibilities. But they shouldn't fear, according to Sam — these tools and systems are being created to elevate them to a higher level.
"Developers are thinking: 'What's going to happen to my job if we've got these tools?' But, as with all technology, it helps people be at a higher level. We're never going to be able to replace judgment." — Sam Fatigato
With the recent explosive rise of AI with software like ChatGPT, Rob predicts we will see AI across many professional settings this year. So while tensions are high among professionals and consumers alike, the aversions will eventually subside.
Rather than eliminating human work, AI will be used to increase efficiency by adding speed and data value. Idea generation, data analysis, and cumbersome, repetitive processes will be simplified, freeing people to invest more of their creative skills and judgment. 
We won't see AI replacing human work in 2023, but we will see companies reap major benefits from employing it across applications. It will be vital to stay on top of the latest trends and be among the first to implement technology in the coming years. 
"Once we escape the hype of ChatGPT and other new technologies and really get down to practical application, we're going to be much better off as a society," Sam says. "I'm excited about the future."
Want to hear more about cloud predictions for 2023 and how to best navigate the ever-changing world of technology? Tune into The Digital Decode on Apple Podcasts or wherever you like to listen.