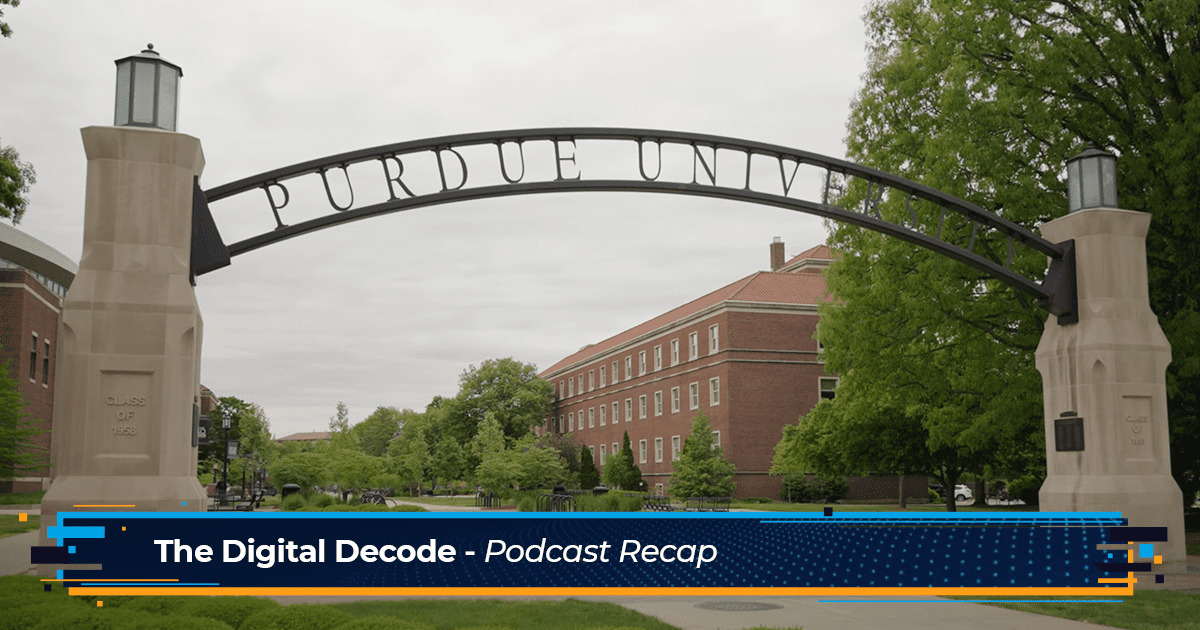 The last thing a university wants to do is raise tuition due to shifting operation expenses, not when those funds are better used for improved classes and learning experiences. 
When faced with the need for digital transformation, Purdue University leaned into its partnership with Presidio and Cisco to achieve their goals with limited, if not eradicated, blowback on students. The success of this partnership didn't happen by accident — it relied on three strategic directions within the university: 
Increase the student and administration experience

Increase operational efficiencies

Maintain and increase security posture
Mladen Milanovic, Vice President of Automation, and David Boyce, Senior Account Manager, both of Presidio, are here to walk through how their partnership with Purdue achieved those initiatives and more
Leveraging automation and AI for a streamlined system
Purdue University had not increased tuition for 10 years, and if they had any say about it, that was not about to change. With this in mind, we enacted a two-pronged approach targeting specific sectors of the university, those being: 
Financial operations
They dug in deep to find bottlenecks and potential points of improvement in existing processes, looking for where automation could be a helpmate, not a hindrance.
"We built a couple of workflows that would accelerate processing of vendor purchase orders," Mladen says. "We also built a machine learning model to enable automation to extract data from the unstructured invoices and accelerate the processing of invoices."
IT services
In parallel with our audit of the financial department, we worked closely with the IT services team to understand where the most traffic was coming from and see what type of tickets were overwhelming the system and technicians.
"We wanted to see how we could help automate and help technicians to focus on more complex stuff, rather than working the more simplistic tickets," Mladen says.
We introduced the IT virtual technician — dubbed the "boiler bot"—to increase the student experience. The virtual IT Service Desk technician communicates with students and faculty using natural language via a conversational AI in the front end, with automation in the backend handling password resets and account setups.
Between the innovations across both departments, Purdue saw significant improvements in their operations within the first six months, with savings north of $200,000.
How the implementation of automation impacted wait times for students seeking IT support
Free from the doldrums of constant, repetitive tickets, Purdue moved several technicians to focus on higher-complexity tasks, providing a more concentrated experience for students.
"They significantly decreased the wait time for a technician when a student approached or called the help desk, from 20 minutes to around five minutes," Mladen says. "They were able to see increased utilization of their technicians for more meaningful and high-value tasks."
Presidio's wealth of technological knowledge and vast portfolio, paired with an excellent engineering team, were key players in ensuring the seamless integration of these new processes.
Through intentional, consistent collaboration between Purdue, Persidion, and Cisco's multidisciplinary team dedicated to success, they delivered on each level they set out to improve. Collaboration is the cornerstone of sustainable innovation.
The success of these innovations proved that, when leveraged properly, AI and automation can transform a system without losing the human touch required for meaningful connections and service. This outcome begs the question: What's next?
How the success of this project has influenced Purdue University's future digital transformation initiatives
Purdue's venture into automation is still in the early stages, with more improvements already in motion. With Persidio's assistance, they're aiming to apply automation across multiple departments, automating administrative tasks, building servers, or microservices strategies. 
"How do you eat an elephant? Their team was able to get one use case, bring it forward, and say, 'We need a foundation built that can do all of our dev, net, and SEC ops strategies moving forward," David says. 
By applying those strategies and selecting the right tools, they created an opportunity for Presidio to help them build what they refer to as "The Cloud Centralization Team" and move further towards a unified experience with an automation factory.
"The alignment of selecting the right ITSM tools and integrating those tools that can do automation so that the staff can do things that are a lot more selective to the university, driving and pushing the needle," he continues.
As they continue to enact a "Think big, start small" strategy, Purdue is on track for university-wide, compounding improvement that always puts the people first. 
Want to learn more about how the future of hybrid work rests in efficient space usage, user behaviors, and the all-important employee experience? Listen on Apple Music, Spotify or wherever you find your podcasts.