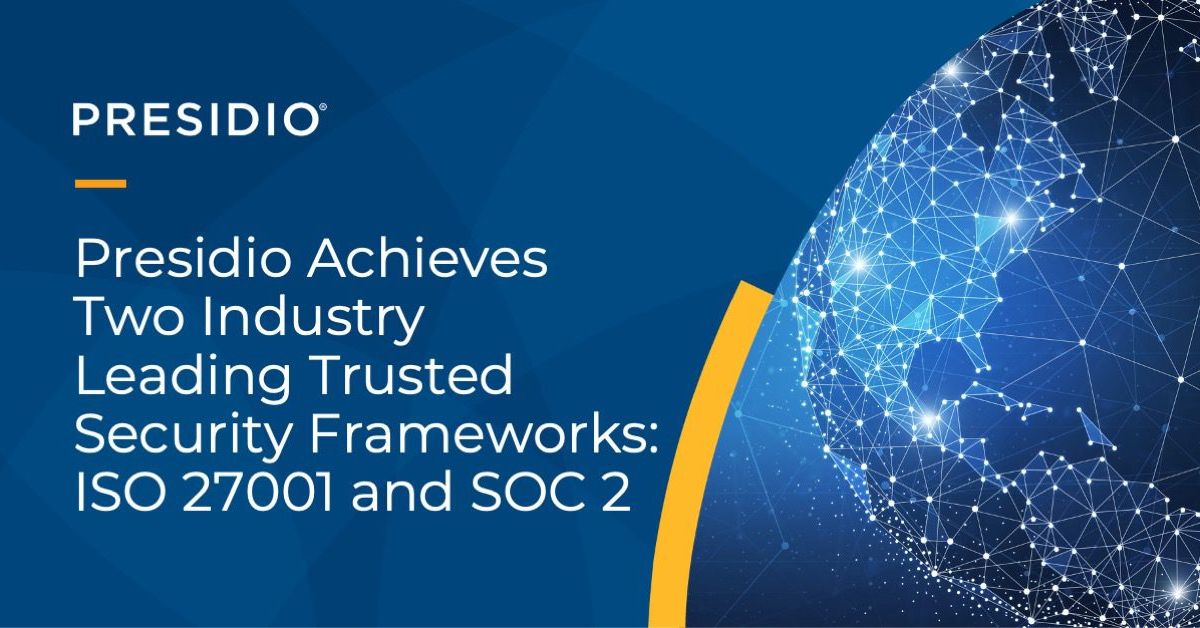 February 14, 2023, NEW YORK – Presidio, a leading global digital services and solution provider, announced that it has achieved compliance with the requirements of two most trusted information security frameworks, ISO 27001 and SOC 2, the leading comprehensive compliance standards for enterprise-wide information security.
"Leveraging best practices to protect data is a top priority for us, which is why we've completed both of the rigorous assessment processes of ISO 27001 and SOC 2," said Dave Hart, President and Chief Operating Officer at Presidio. "It's important to us to demonstrate to our customers and partners that they can have confidence in Presidio to protect the confidentiality, integrity and availability of our information and customers' information."
Presidio's Information Security Management System (ISMS) is certified and governed by the ISO/IEC 27001 international standard to protect information assets and reduce risk. ISO 27001 is the leading international standard focused on information security, and helps organizations protect their information systematically and cost-effectively. It includes more than one hundred security controls for developing, implementing and maintaining an information security management system (ISMS) designed to manage the security of information such as financial, trade secrets, and other confidential records.
In addition, Presidio has completed the SOC 2 assessment, which resulted in an unqualified opinion attestation report. SOC 2 is a voluntary compliance standard developed by the American Institute of CPAs (AICPA) specifying how organizations should manage customer data. The standard is based on the following Trust Services Criteria: security, availability, processing integrity, confidentiality and privacy.
About Presidio
Presidio is a global digital services and solutions provider accelerating business transformation through secured technology modernization. Highly skilled teams of engineers and solutions architects with deep expertise across cloud, security, networking, and modern data center infrastructure help customers acquire, deploy, and operate technology that delivers impactful business outcomes. Presidio is a trusted strategic advisor with a flexible full life cycle model of professional, managed, and support and staffing services to help execute, secure, operationalize and maintain technology solutions. For more information, visit www.presidio.com.
Contacts:
Media:
Investor Relations:
[email protected]