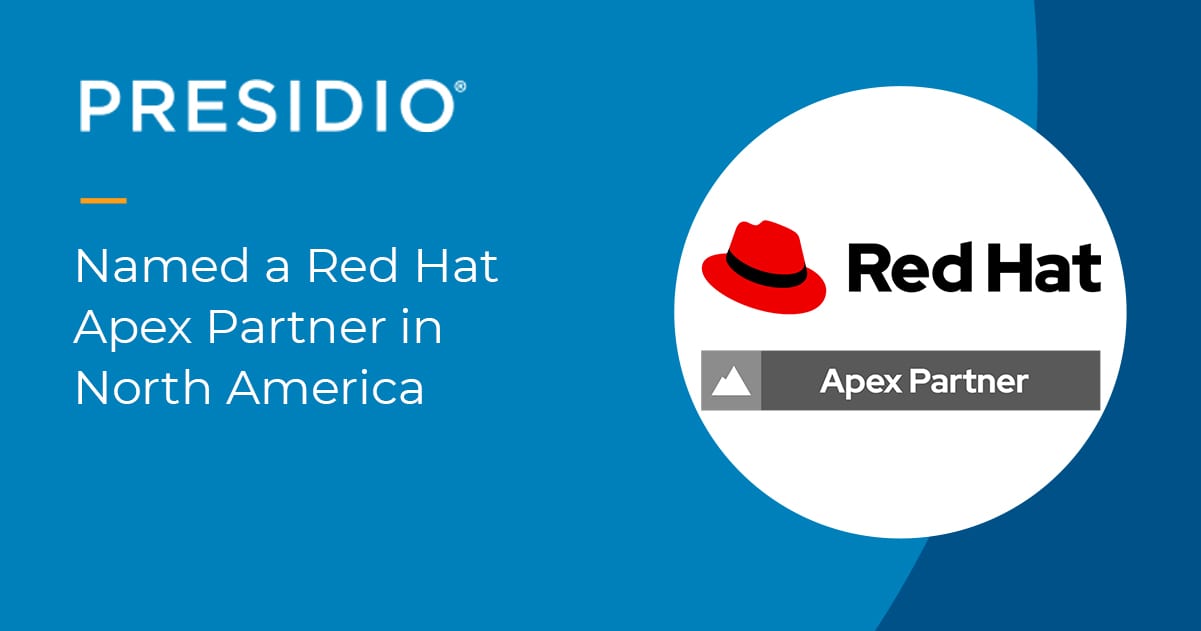 Presidio announced today that they have been named a Red Hat Apex Partner in North America. As part of Red Hat's partner ecosystem, Presidio has shown that they have deep expertise in application development and integration and hybrid cloud infrastructure and management platforms.
Presidio has helped many clients to leverage key Red Hat offerings like Red Hat Ansible Automation Platform and Red Hat OpenShift. "Red Hat is a recognized leader in delivering enterprise flexibility with strong support for open standards and hybrid cloud environments", said Sam Fatigato, Presidio VP Cloud Solutions. "The Red Hat Apex Partner designation recognizes Presidio's experience helping customers modernize their applications leveraging container-based cloud computing with enterprise-grade management and scale. Presidio empowers businesses to rapidly bring their greatest ideas to market, and Red Hat helps us to deliver with greater speed, quality, and scale."
Presidio's consultative salespeople and engineering teams help clients select and deploy advanced technology to achieve important business outcomes. Red Hat enables Presidio clients to automate processes and deploy applications with flexibility across on-premise, hybrid and public cloud environments.
"Red Hat's partner ecosystem is a vital component in delivering powerful, flexible and open solutions to global enterprises. We're pleased to have Presidio as an Apex Partner, and look forward to delivering open innovation to our joint customers with them," said Ernest Jones, vice president, North America Commercial Partners & Alliances, Red Hat.
About Presidio
Presidio is a leading IT services and solutions provider that helps customers connect IT of today to IT of tomorrow. Our deep technology expertise across cloud, security, modern IT infrastructure and networking underpin our ability to help customers accelerate time-to-outcome via agile digital platforms. We deliver this technology expertise through a full life cycle model of professional, managed, and support services including strategy, consulting, implementation, and design.
###
Red Hat, the Red Hat logo, Ansible and OpenShift are trademarks or registered trademarks of Red Hat, Inc. or its subsidiaries in the U.S. and other countries.