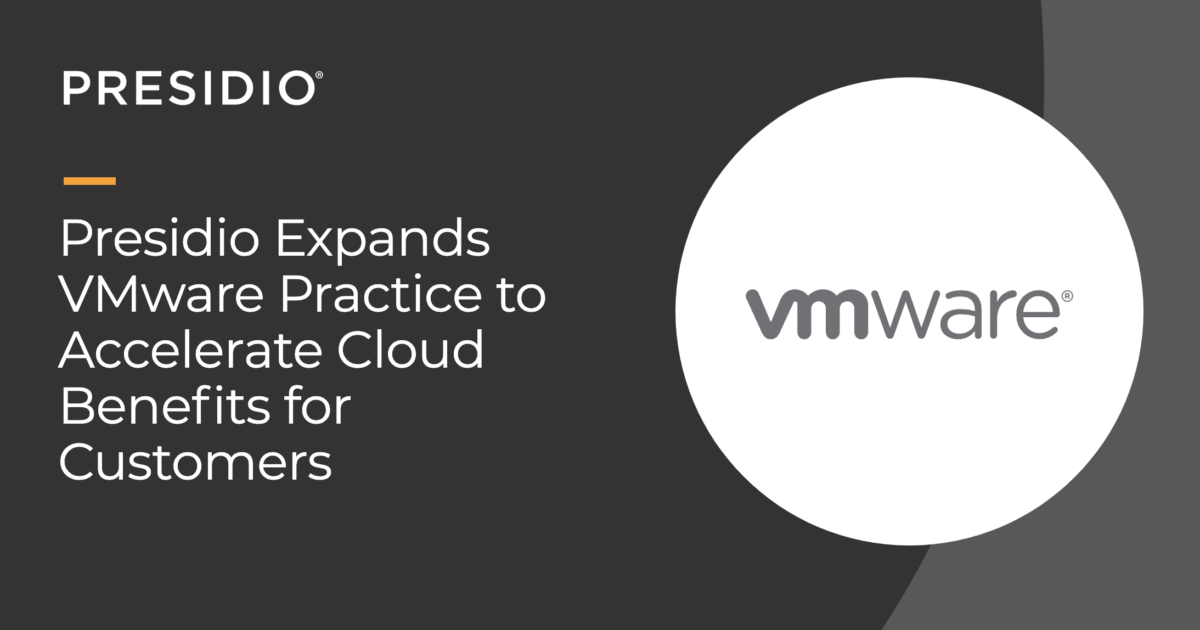 Company Achieves new Top Tier Pinnacle Partner status in VMware Partner Connect Program
March 20, 2023, NEW YORK – Presidio, a leading global digital services and solution provider, today announced expanded advanced VMware services increasing scale and deployment expertise for multi-cloud and automation to help customers fully leverage the benefits of the cloud. In addition, Presidio is now designated as a Pinnacle Partner, the new top tier in the VMware Partner Connect Program. The Pinnacle level is focused on VMware's most strategic and transformational partners.
"Customers want a single partner to develop and deliver on a comprehensive strategy from the network, data center, and multi-cloud so they can focus on transforming their businesses and accelerate their journey to the cloud," said Dave Hart, president and chief operating officer at Presidio. "To help them, we've added even deeper VMware expertise to our team that is uniquely adept at both advising and building out secure on-premises and multi-cloud solutions."
Now with broader skill sets and an expanded team of VMware experts, Presidio has comprehensive expertise to help customers leverage the benefits of integrating their public cloud to work seamlessly with on-premises infrastructure while taking advantage of existing teams, skillsets, tools and processes. Presidio combines its technology consulting framework and lifecycle services with VMware's innovative software and services to design, implement and manage agile, more secure, multi-cloud solutions optimized for each customer's unique requirements. Presidio's engineers hold seven VMware Master Services competencies.
"VMware and Presidio have a long-standing partnership with close alignment that delivers maximum value for our shared customers. We're pleased to see them become a new Pinnacle Partner, the highest level in our evolved Partner Connect program," said Tracy-Ann Palmer, vice president, global channel sales programs and compliance at VMware. "Pinnacle Partners are technology leaders in their industries and regions, with multiple program validations and demonstrated sales and services success at scale. Presidio continues to stand out as an innovative company that is helping customers become cloud smart on their digital transformation journeys."
About Presidio
Presidio is a global digital services and solutions provider accelerating business transformation through secured technology modernization. Highly skilled teams of engineers and solutions architects with deep expertise across cloud, security, networking, and modern data center infrastructure help customers acquire, deploy, and operate technology that delivers impactful business outcomes. Presidio is a trusted strategic advisor with a flexible full life cycle model of professional, managed, and support and staffing services to help execute, secure, operationalize and maintain technology solutions. For more information, visit www.presidio.com.