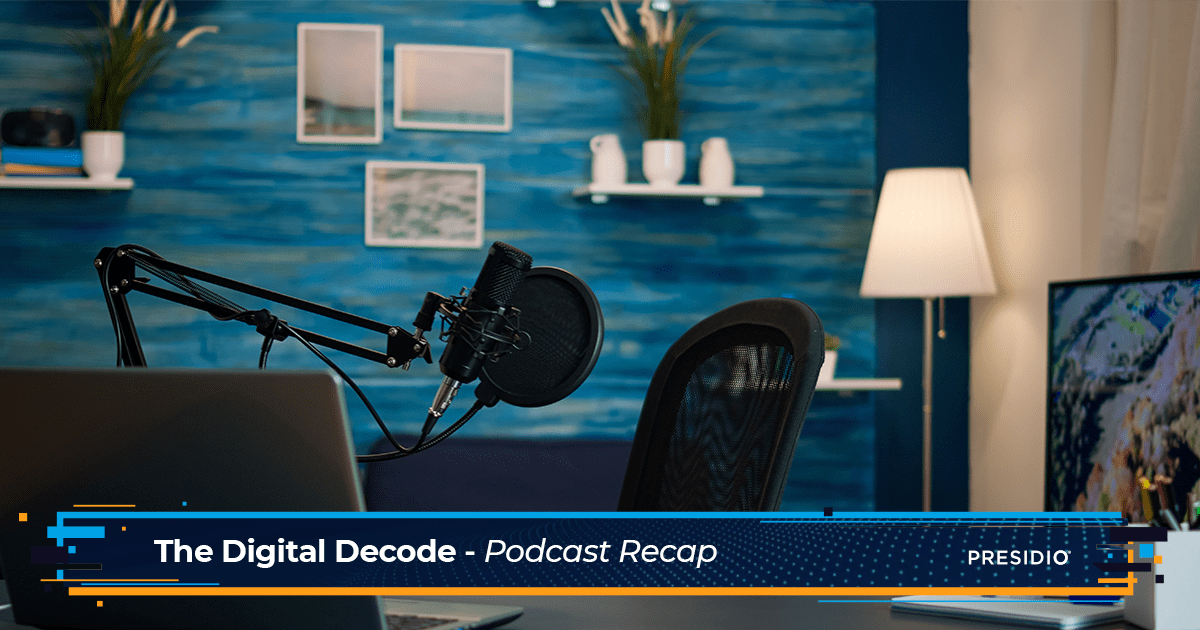 ---
To find long-term success, your business must have a working model that can adapt to both new challenges and innovations… starting with the right cloud integrations can allow for effective scaling down the road. 
In this episode, Ryan Harrington, Vice President of Enterprise Architecture at Presidio, and Josh Pemrick, Director of Presidio's PRISM program, join Rob Kim to share their expertise on building tailored solutions for cross-employee workflows and customer satisfaction. 
Join us as we discuss:
Standardizing data configuration

Creating revenue streams

Automating cloud processes
Getting started 
Before implementing anything with your cloud integration, it's helpful to think through exactly why you are going through the effort in the first place. 
Getting your cloud integrations right the first time may seem complicated and anxiety-inducing — especially when you don't have a ton of experience with them. On the other end of the spectrum, being too excited and eager to dive in may lead to overlooking important considerations.
We get it, but let's level-set first.
Sure, the tech might be shiny and advanced and, of course, you'll have to make some important decisions, but in the end, success really boils down to two things:
The business outcomes you are looking to achieve

The end-user experience
So, regardless of the choices you make with your cloud integrations, if you always start with these in mind and work backwards, you're on the right track. 
Navigating cloud integration is only difficult when you don't understand the why behind it.
Once you do, the what becomes so much simpler. 
Standardizing data configuration
One area where the importance of working backwards from the end-user's experience is clearly well-evidenced is when it comes to your data — particularly, how well it's standardized.
As your business grows, so too will your cloud integrations. But, in order to scale in a way that doesn't lead to an incoherent patchwork of poor communication between various integrations, you need to plan ahead. You need to standardize the data.
This requires some foresight, of course. You'll need to plan not just for your current needs, but what you'll need in the future. 
If you are only looking at the financial model and not how the end user is using the data on, say, shared drives, you'll miss what you need to scale and end up with sprawl — along with a rather poor user experience.
Creating revenue streams
When it comes to cloud integrations, it's obviously important to factor in the costs that go into it.
When you are in the initial stages of figuring out how much you want to spend — which services you need, the licenses you'll buy, the Hyperscalers you'll be using — be sure to look out for deals and savings you can take advantage of. These will have a big impact on the ongoing costs you'll see.
On top of ways to save, you need to be sure that your team has enough know-how and experience on it to leverage the technology you are investing in in a way that is profitable and well-suited to your business goals.
In fact, this is one reason why there has been a rise in the role of customer success manager in recent years — to make the most of the technology, you need someone who knows the ins and outs of the integrations well enough to help customers succeed with it, too. They ultimately bridge the gap between the business and its revenue streams and how the technology fits into that.
If it's not someone already on the team, be sure to connect with partners with that knowledge to help guide you along the path. There is nothing wrong with leaning on the wisdom of more experienced partners when you need help.
Automating cloud processes
What good is all this shiny technology if it doesn't make our lives easier? 
With digital transformation comes automation. And any integrations you invest in should be using that automation to make your end users' lives easier, freeing them up from the mundane to focus on those things that demand the human touch.
So, make sure that this is actually what your cloud integrations are actually doing — saving time and hassle. Otherwise, what's the point?
Finally, there's your role in adoption.
A truism when it comes to cloud integrations — and any technology, really — is that if you want to see adoption, you need to actually make it a focus.
Adding the increasingly popular role of a chief customer success officer to your roster is one way to make sure that you stay focused on adoption, while also enshrining the responsibility inherent in that focus to your business.