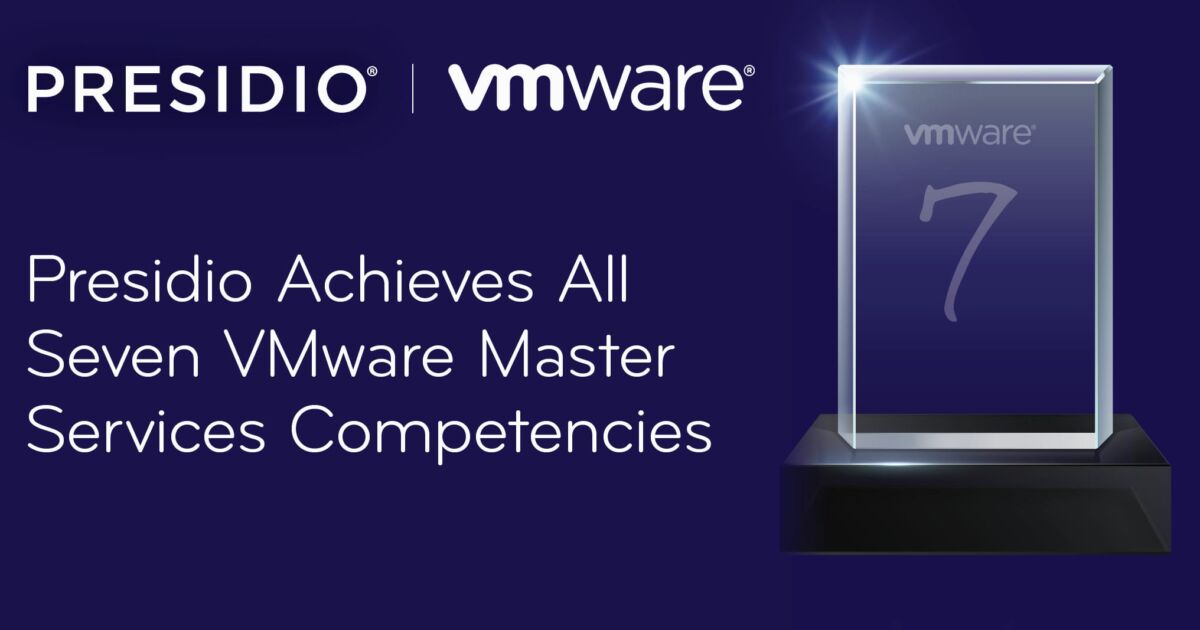 Presidio, Inc. is proud to announce its designation of the first partner in North America to hold all seven VMware Master Services Competencies, listed below:
Data Center Virtualization
Cloud Management and Automation
VMware Cloud Foundation
VMware Cloud on AWS
Cloud Native
Networking Virtualization
Digital Workspace
In order to achieve this high-level of service capability and delivery expertise, Presidio had to provide over twenty customer references, validating Presidio's knowledge and skillset within a VMware solution area. Additionally, Presidio's skilled team of engineers were required to successfully achieve over fifty advanced VMware certifications in total for all seven competencies.
"VMware has been a key partner in helping Presidio's customers with their digital initiatives including workforce transformation, modernizing infrastructure, cloud and security. We are extremely proud of the entire team for delivering on this fantastic achievement for Presidio, confirming our continued passion as a leader in the industry. With this recognition, we look forward to continuing our record of excellence when providing our customers with best-of-class stronger solutions and services for their business." – said Vinu Thomas, Chief Technology Officer.
This achievement allows Presidio to differentiate their services in seven specific solution areas and is the result of a very effective working partnership with VMware which helps Presidio provide customers with innovative and expandable successful business outcomes.
About Presidio
Presidio is a leading IT services and solutions provider that helps customers connect IT of today to IT of tomorrow. Our deep technology expertise across cloud, security, modern IT infrastructure and networking underpin our ability to help customers accelerate time-to-outcome via agile digital platforms. We deliver this technology expertise through a full life cycle model of professional, managed, and support services including strategy, consulting, implementation, and design.