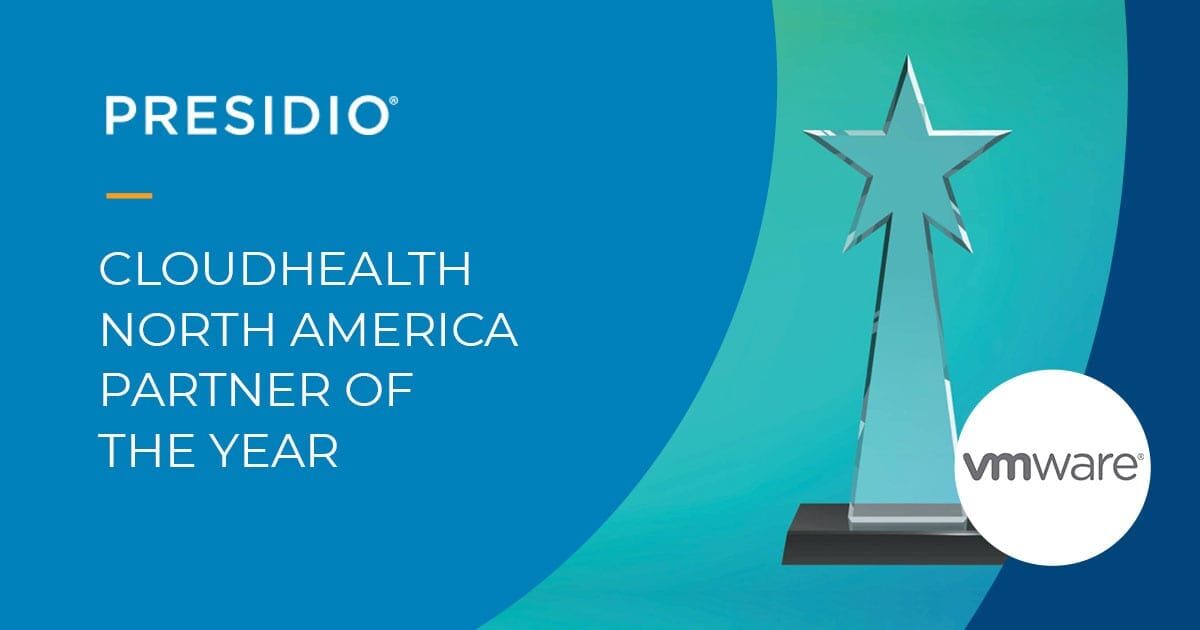 Presidio has been selected as one of ten CloudHealth by VMware Partner of the Year award winners, which were recently recognized during the 2021 CloudLIVE Solution Provider Virtual Summit. Presidio was awarded top honors in the North America Partner of the Year category.
"When embarking on a cloud initiative, it is crucial to consider optimization, security, and monitoring on a consistent basis," said Chris Cagnazzi, SVP Presidio. "With the right tools, such as the Cloud Health solution, the journey to the cloud can be one met with minimal turbulence, headaches, and service disruption."
Partner of the Year winners were identified as standouts among hundreds of cloud solution providers globally. This is a distinguished group of top-level cloud MSPs experiencing rapid growth, while showcasing best practices in customer success. They are recognized for their technical expertise, their innovation and the great value they bring to our joint customers.
"The CloudHealth Partner of the Year recipients are an exceptional group of cloud solution providers from around the globe who have demonstrated deep skill and dedication to customer success in a truly unusual year," said Bob Kilbride, Senior Director of Channels at CloudHealth by VMware. "Presidio has proven itself a leader in delivering innovative solutions and valuable services that accelerated customers' digital transformation in the cloud. Congratulations—we are pleased to recognize you for your commitment to our partnership and look forward to what we can continue to achieve together."
As a proud partner of CloudHealth, Presidio has grown with the platform and been able to enhance customer relationships by providing them with usage and optimization visibility into multiple cloud platforms. This is the second time Presidio has been recognized as a CloudHealth Partner of the Year.