The NASA Solutions for Enterprise-Wide Procurement (SEWP) V government-wide acquisition contract (GWAC) provides for information technology and communication (ITC), audio/visual product solutions, and related product services for all federal agencies.
Available to all federal agencies and approved service providers
Easiest and fastest ordering procedure using pre-competed contracts
Low prices (generally below GSA schedule prices)
Firm fixed price order type with no maximum order limit Lowest surcharge (0.39%)
Long track record of providing premier customer service and outreach
SEWP V Contract Number
Group D / Business Designation:
Company Name:
Doing Business As:
NAICS:
PPC Code:
Cage Code:
DUNS:
TIN:
Contract Period:
NNG15SC45B
Other Than Small
Presidio Networked Solutions, Inc.
541519
541519
99
0KD05
15-405-0959
58-1667655
May 1, 2015 – Apri 30, 2025 (with option)
Betsy Johnson
Program Manager
Email: [email protected]
Phone: 301-623-1884
Mobile: 410-279-7419
The SEWP V contract is for use by all Federal agencies and approved federal agency support service contractors.
Please find the Presidio SEWP Ordering Guide here. The general flow of SEWP Order Process is:
The general flow of SEWP Order Process is: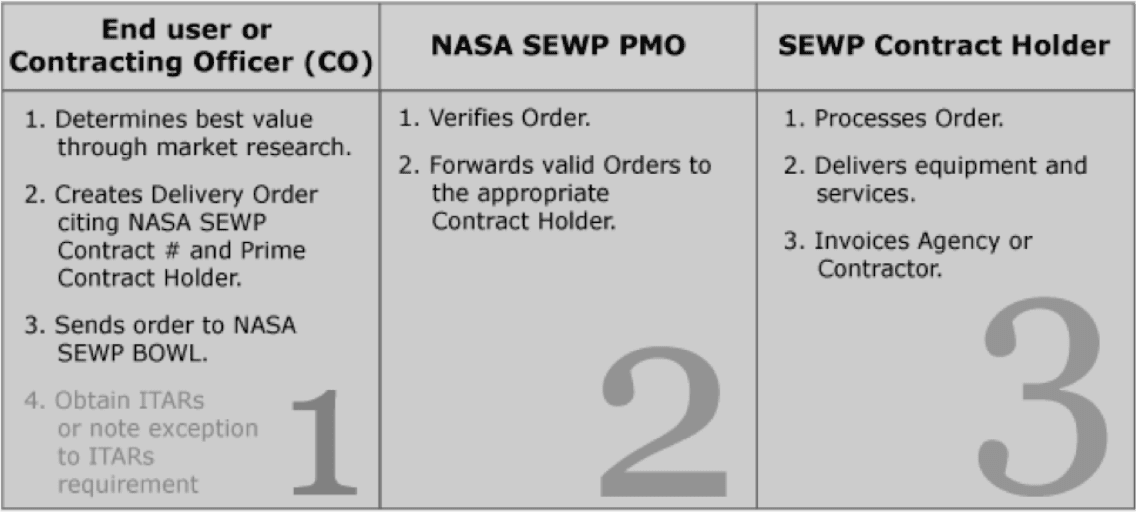 SEWP PROGRAM OFFICE CUSTOMER ASSISTANCE
The NASA SEWP Program Office provides direct assistance to federal customers.
FAIR OPPORTUNITY FAR 16.505(b) (1) provides that each contractor shall be given fair opportunity to be considered for each order exceeding $3,000 and issued under multiple award contracts. The FAR states that the method to obtain fair opportunity is at the discretion of the CO and that the CO must document the rationale for placement and price of each order. Using the SEWP online https://www.sewp.nasa.gov/sewp5public/security/login.sa is the recommended method to assist in this activity and to augment the required decision documentation. The SEWP QRT tool will automatically include the Contract Holders within a selected Group or based on a suggested source.
NOTE: Fair Opportunity to all Contract Holders within one or more SEWP Groups is required. There is no requirement to obtain 3 quotes as long as all Contract Holders within a Group were provided opportunity to provide a quote.
Delivery orders issued against the SEWP contracts are not subject to the Economy Act.
COMMITMENT TO SERVING OUR CUSTOMERS
Presidio is uniquely positioned to address complex business challenges within certain vertical spaces through the alignment of technology solutions and business processes. Presidio has established a wide range of prime contract vehicles and small business partner agreements to serve its federal customers.