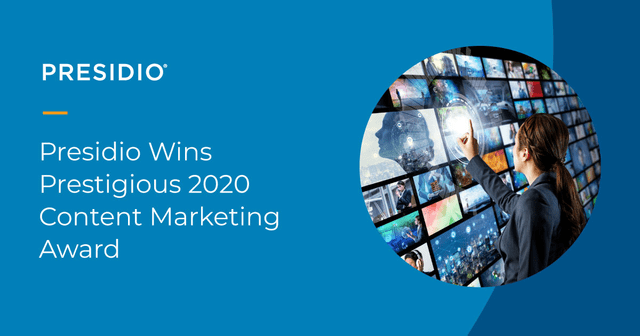 The Content Marketing Institute (CMI) announced Presidio, along with VMware and Mahalo Digital, have been recognized as the 2020 Content Marketing Award recipients for Best Use of Content Curation for the 'It's a Big Cloud Out There' Transformation Island microsite campaign. The Content Marketing Awards, produced by the Content Marketing Institute, is the largest and longest-running international content marketing awards program in the world.
This year's panel of all-star judges reviewed hundreds of entries to determine the best of the best in content marketing excellence. The 80+ categories recognizes all aspects of content marketing, including the best in strategy, automation, research, social media, video, editorial, illustration, design and much more, across many different industries from healthcare to manufacturing.
"One of the favorite parts of my job is getting to review some of the most innovative, inspiring, successful content marketing programs in the world each year for the Content Marketing Awards," shares Stephanie Stahl, general manager, Content Marketing Institute. "The quality of work we've seen with this year's contenders is just off the charts. The industry has come a long way over the last 10 plus years and it's gratifying to see companies and businesses not only embracing what we've been preaching but that they are seeing so much success with their content marketing efforts."
The "It's a Big Cloud There" campaign was created to be an engaging 'choose-your-own-journey' user-experience where the visitor can consume the content of their choice, download multiple assets and educate themselves at their own pace. Since the campaign has launched, Presidio has captured over 13K asset downloads, and over 11K unique user sessions on the microsite.
"Our team wanted to cut through all of the digital noise there is right now in a very saturated and competitive market for quality content. One of our main goals was to create a unique and effective user-experience for the customer and truly let them take their own journey as they learn more about who Presidio is, how we can leverage our strategic partnerships, and the full lifecycle services we can offer to optimize their business." – Barb Robidoux, Presidio Vice President, Marketing.
Visit the winning solution site here: www.presidio.com/bigcloud. Access the full list of the 2020 Content Marketing Award category winners here: https://cmi.media/winners20