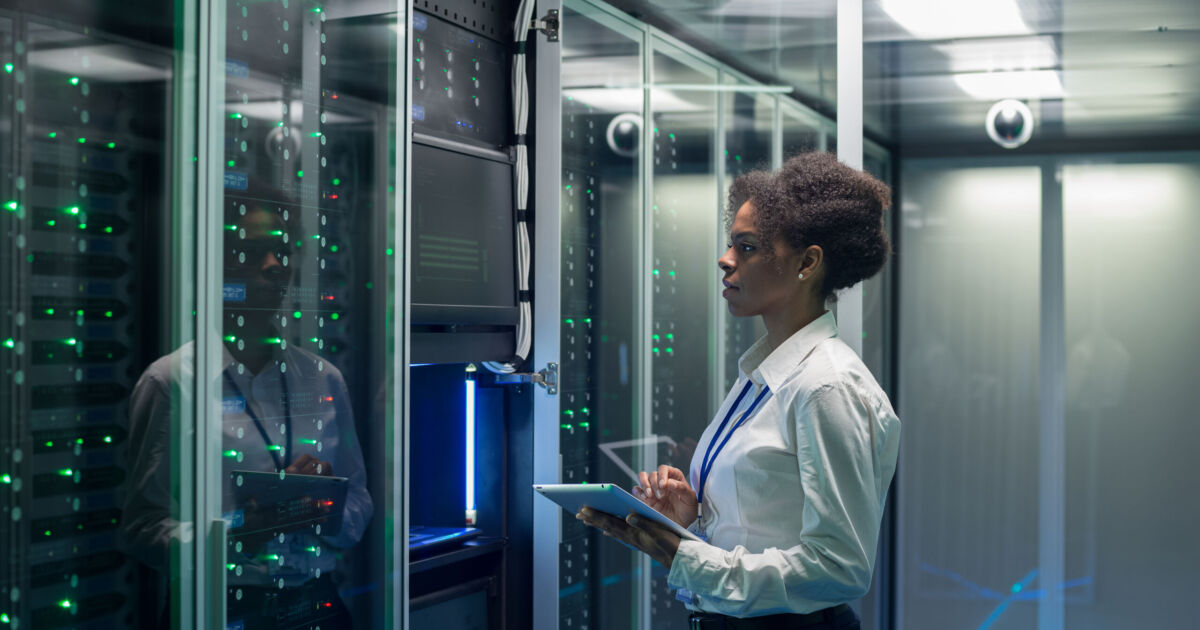 PowerEdge MX7000 lets companies work at the speed of business, not IT
If the advantages of the Dell EMC PowerEdge MX7000 modular chassis could be summed up in a single word, that word would be: possibilities – possibilities for resolving common challenges such as:
On-prem data centers bogged down by static servers that prove increasingly insufficient for modern workloads and applications.
IT staff cannot easily upgrade or expand the capabilities of existing hardware.
Organizations that need an on-prem solution with the flexibility of the cloud for scaling up and reallocating workloads on the fly, as business needs change.
Presidio is excited to help customers experience these new possibilities and more. It's all thanks to an industry-changing blade chassis that's revolutionizing IT and the organizations that use it with its highly scalable, ultra-flexible design to meet virtually any configuration need.
Dynamically and rapidly scale with kinetic infrastructure
For those unfamiliar, the Dell EMC PowerEdge MX7000 modular chassis is designed to allocate dynamically, move and scale shared pools of computing, storage, and fabric – rapidly and with unprecedented flexibility. Workloads can tap the resources required for fast, efficient operation, returning them to the shared pool when they're not needed. This ability to create hardware on the fly means managing capacity at a data center level rather than a per-server level.
Released last year, the Dell EMC PowerEdge MX7000 provides a truly composable hardware infrastructure – an achievement no other server OEM can claim. It allocates the appropriate resources to the right workload, and as business needs evolve, resources shift dynamically – almost instantly. And, it helps maximize VMware vSAN environments to scale and support better database performance.
At the heart of the PowerEdge MX7000 is the 2nd generation Intel® Xeon® Scalable process or, specially designed for high-performance computing and other demanding data center applications. Also, it will soon support Intel® Optane™ DC persistent memory, workload-optimized to deliver affordable large capacity and data persistence. All of this contributes to the system's unprecedented speed.
Unsurpassed flexibility for limitless configurations – and possibilities
One of the revolutionary features of the MX7000 is its extreme flexibility. Configure it from the get-go to meet specific needs and then make additions and adjustments down the road as needs change and new technologies emerge. The lack of a backplane allows IT to swap out switches easily, or expand capabilities by, for instance, installing a blade of GPUs or FPGAs. All this results in the benefits of speed, fast deployment, and countless configurations.
The MX7000 supports the ability to add new technologies that are not even on the market yet, such as Gen-Z, an open-systems interconnect design that allows devices to access memory, graphics processors, and other pooled resources via direct-attached, switched, or fabric technologies. Soon, a medium- to enterprise-level company looking for a truly dynamic on-prem data center will have the ability to meet IT business demands quickly. Today, existing static servers are not flexible enough, which is one reason the public cloud looks so attractive. Now there's a future-ready answer that reduces risk and eases management: the MX7000 will let organizations quickly roll out new compute capabilities with dynamic resources, such as the ability to extend the memory of a server simply by pointing its hardware to a pool of memory available in the chassis.
Or, suppose a company needs to test a new idea 100 different ways to determine which variation works best but cannot wait for IT to run the other 99 setups. The MX7000 speeds up that process to work at the speed of business, not IT. Dell servers do this through a programmable infrastructure, enabling IT to allocate new resources and decommission older resources through APIs dynamically. Developers who use tools such as Chef, Puppet, and Ansible will feel right at home with the MX7000 and its programmable server and networking infrastructure. The MX7000 is essentially a Cloud offering in your data center.
Presidio matches the right IT solution to achieve business outcomes
With countless configuration possibilities, the PowerEdge MX7000 chassis can be deployed to answer virtually any IT-related business challenges. Presidio takes this a kind of reverse-engineering approach to helping customers find the ideal configuration solution: tell us what you want to accomplish, and we will leverage the modular capabilities of the PowerEdge MX7000 to configure the ideal IT solution.
Acting in a consultative role, Presidio makes a deep dive into what business outcomes the customer wants to achieve with IT. We talk to all relevant stakeholders, from engineers to executives, to gain a clear picture of their existing IT environment. We discern current management of the infrastructure, and how much time and money are expended on IT issues. We then gauge what they know about public, private, hybrid, and multi-cloud environments. And finally, we discuss DevOps opportunities they could be pursuing the right infrastructure solution.
Achieve maximum advantage from modularity
The fact is, organizations today are experiencing an unprecedented pace of change and competition. They need to transform their data center capabilities and dynamically stand up compute resources quickly to achieve faster time to value. Traditional architectures are no longer enough – they need to scale up or down as workloads demand.
That's the breakthrough advantage of the Dell EMC PowerEdge MX7000 chassis: a modular building block that can adapt instantly to capture new business possibilities today and tomorrow. Presidio can serve as a trusted advisor in applying a modular computing solution to your unique business challenges – talk to us