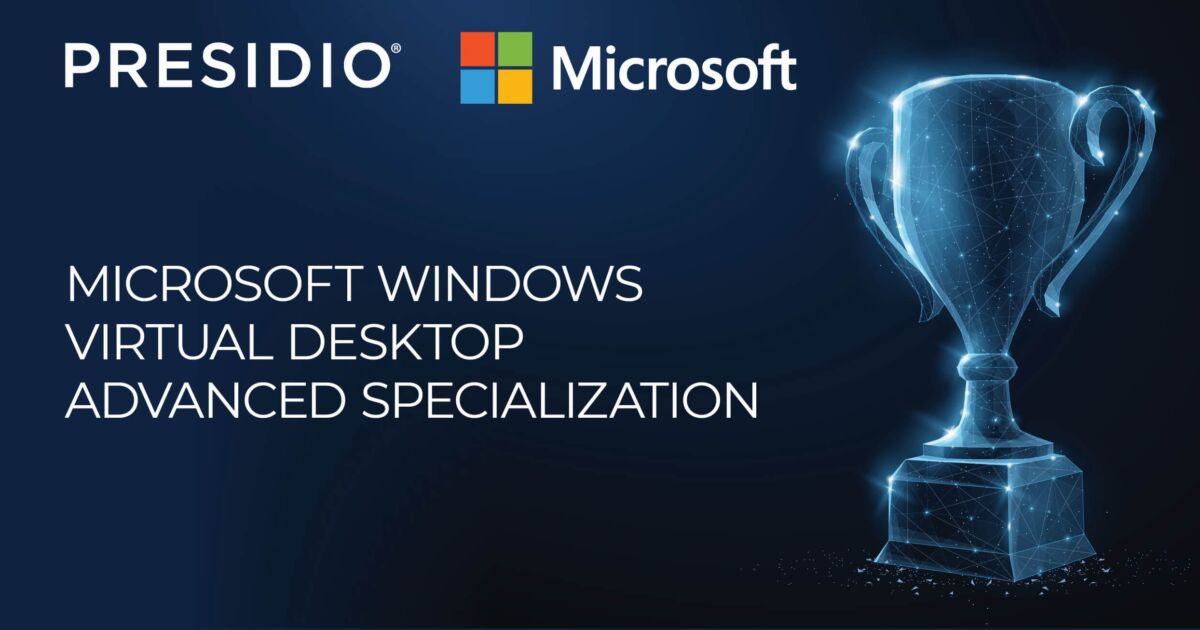 Presidio, Inc. announced it has earned the coveted Microsoft Windows Virtual Desktop advanced specialization, a validation of a partner's deep knowledge, extensive experience and expertise in deploying, scaling and securing virtual desktop infrastructure on Azure.
Only partners that meet stringent criteria around customer success and staff skilling, as well as pass a third-party audit of their Windows Virtual Desktop technical practices, are able to earn the Microsoft Windows Virtual Desktop advanced specialization.
Supporting secure remote work for employees is more critical than ever. Windows Virtual Desktop is a Microsoft solution that seamlessly integrates with other Microsoft products and allows customers to implement virtual desktops in a scalable, secure, and cost-effective way.
Partners with validated capabilities in implementing Windows Virtual Desktop can help customers deploy and navigate the licensing efficiencies it offers to deliver the solution that is most efficient for their organization.
"Workforce transformation is one of the key pillars of Presidio's digital transformation strategy. In today's world employee productivity and security is critical for long-term success. We are thrilled to have earned advanced specializations, such as this, further validating and strengthening our workforce transformation initiatives," said Presidio's Chief Technology Officer, Vinu Thomas. "WVD Advanced Specialization represents a milestone in our standing as a partner with Microsoft. Receiving this accolade not only demonstrates Presidio's understanding of Windows Virtual Desktop but shows our drive and commitment to the pursuit of excellence."
Over the last year, the adoption of this solution has been hyper accelerated as a means of delivering a secure, modern 'work from home' desktop environment to thousands of customers that were thrust into the world of remote workforce. This will only continue to grow throughout 2021."
Gavriella Schuster, Corporate Vice President, One Commercial Partner (OCP) at Microsoft Corp. added, "The Microsoft Windows Virtual Desktop advanced specialization highlights the partners who can be viewed as most capable when it comes to deploying Windows Virtual Desktop in Azure. Presidio clearly demonstrated that they have both the skills and the experience to offer clients a path to transition to desktop-as-a-service in a scalable, secure, and cost-effective way."
As companies look to modernize and take full advantage of the benefits of the cloud, they are looking for a partner with advanced skills to migrate, optimize, and manage their environments. Presidio continually strives to be that partner in guiding clients when adopting cloud services such as Microsoft 365 and Azure.
About Presidio
Presidio is a leading IT services and solutions provider that helps customers connect IT of today to IT of tomorrow. Our deep technology expertise across cloud, security, modern IT infrastructure and networking underpin our ability to help customers accelerate time-to-outcome via agile digital platforms. We deliver this technology expertise through a full life cycle model of professional, managed, and support services including strategy, consulting, implementation, and design.