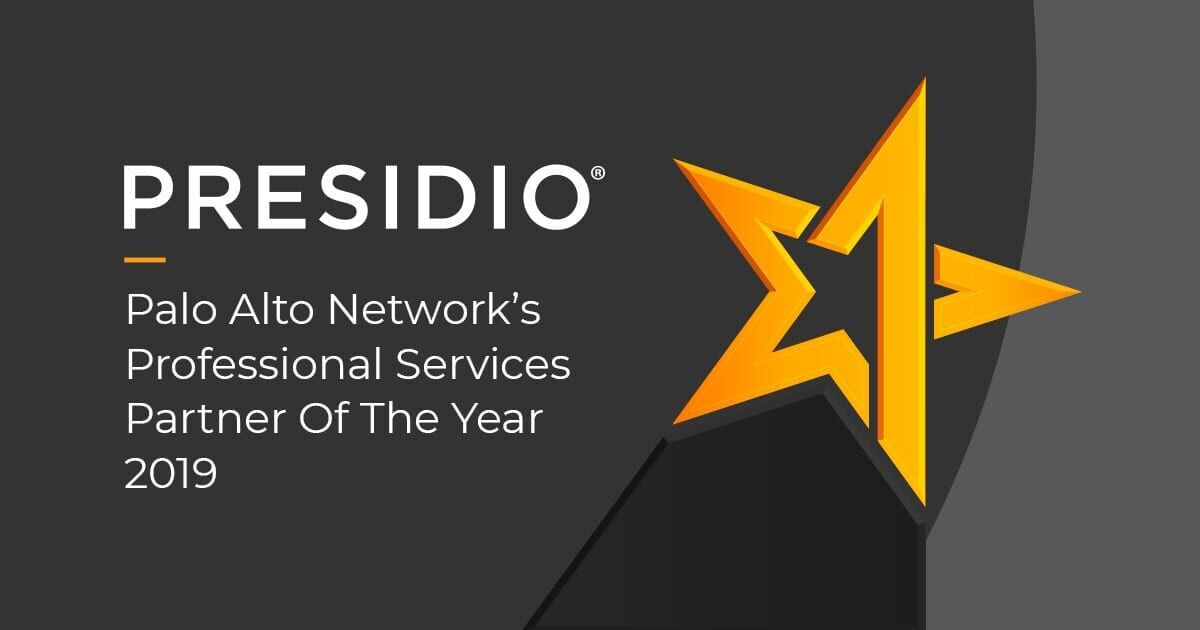 Presidio today announced it received the Palo Alto Networks America's Professional Services Partner of the Year Award for 2019.
Announced during the Palo Alto Networks Sales Kickoff 2020 in Las Vegas, these annual awards are presented to an elite group of NextWave partners that over the past 12 months have excelled in the following areas:
• Performance: partner-initiated bookings, pipeline and net new customer
acquisition
• Enablement: number of Palo Alto Networks pre-sales, sales and post-sales
certifications
• Engagement: nominated by the Palo Alto Networks team
Presidio has been a partner of Palo Alto Networks since 2012. Throughout the years, Presidio has won multiple "Excellence in Partnership" awards at regional PartnerUp events. Last year Presidio was recognized as the 2018 Americas Services Partner of the Year and Americas East Regional Partner of the Year.
Presidio is a Diamond Innovator NextWave partner, holding over 160 technical certifications and over 80 sales certifications, also specializing in Traps (advanced endpoint) and Public Cloud security.
"Presidio is pleased to accept the Palo Alto Networks Professional Services Partner of the Year Award. Cybersecurity Ventures predicts there will be 3.5 million cybersecurity job openings by 2021 (Ref). Integrators with the ability to provide the right services in cyber security are absolutely critical to securing their customers," said Mark Behan, Sales VP National Practices, Presidio. "As a company, we take pride in our engineering-led approach and are happy to have that validated by a security bellwether like Palo Alto Networks."
"We are fully committed to helping our partners secure the enterprise, cloud, and future together," said Karl Soderlund, Senior Vice President of Worldwide Channel Sales at Palo Alto Networks. "Today's customers need trusted advisors, our NextWave partners, to successfully navigate the rapidly changing and complex security landscape. We're proud to recognize Presidio on their America's Professional Services Partner of the Year Award for delivering valuable business outcomes and helping our mutual customers protect
their digital way of life."
For mresidio-c-suite-perspective-how-technology-leaders-are-responding-to-a-global-pandemic-with-palo-alto-networks/ore information on Presidio, please visit this page. For more information on Palo Alto Networks, please visit this page.